Demonstration Overview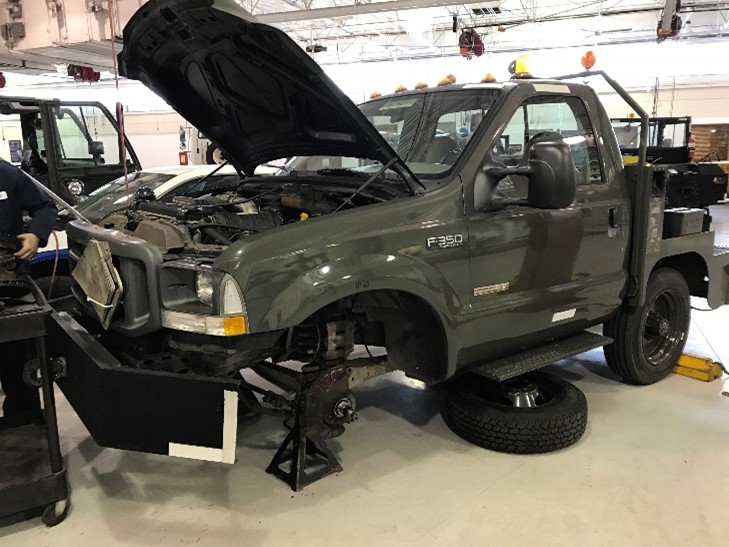 The STED Program is currently demonstrating biobased brake cleaners for use in maintenance operations at Department of Defense (DoD) Installations.
Industrial cleaners have been designated for Federal procurement preference by the United States Department of Agriculture (USDA) BioPreferred Program. The BioPreferred Program defines industrial cleaners as
"Products used to remove contaminants, such as adhesives, inks, paint, dirt, soil, and grease, from parts, products, tools, machinery, equipment, vessels, floors, walls, and other production-related work areas. The cleaning products within this item are usually solvents, but may take other forms. They may be used in either straight solution or diluted with water in pressure washers, or in hand wiping applications in industrial or manufacturing settings, such as inside vessels. Task-specific cleaners used in industrial settings, such as parts wash solutions, are not included in this definition."
The BioPreferred Program established a minimum biobased content of 41 percent for industrial cleaners. The demonstration biobased brake cleaner is less toxic than traditional brake cleaners and contains no hazardous air pollutants. It also offers a substantially higher flashpoint and reduced environmental risk from spills in comparison to traditional brake cleaners.
Before these biobased products are utilized by the Military Departments and DoD Components, their performance must be proven to meet DoD requirements.
Demonstration Products*
The following biobased products are currently being demonstrated:
SpartaBrake by Spartaclean Bio-Technologies
*Mention of or referral to commercial products, services, and manufacturers herein is provided for informational purposes only and does not constitute endorsement by, nor the official policy or position of, the Department of Defense (DoD), any of its Components, or the U.S. Government.
Demonstration Sites
Field demonstrations of these products are being performed at the following DoD installations and co-located federal facilities to evaluate their performance in Military operational environments and to raise awareness of biobased product availability:
Shaw Air Force Base (AFB)
Eglin AFB
Hurlburt Field
Patrick Space Force Base
Joint Base Lewis-McChord (JBLM)
Red River Army Depot
Marine Corps Air Ground Combat Center Twentynine Palms
National Aeronautics and Space Administration (NASA) Kennedy Space Center
NASA Marshall Space Flight Center
NASA Armstrong Flight Research Center
Federal Bureau of Investigation (FBI) Tactical Emergency Vehicle Operations Center (TEVOC), Quantico
Demonstration Details
Installation personnel are provided a supply of the products and asked to provide feedback on the product performance. This demonstration commenced late summer 2022 and information will be updated as results are determined.