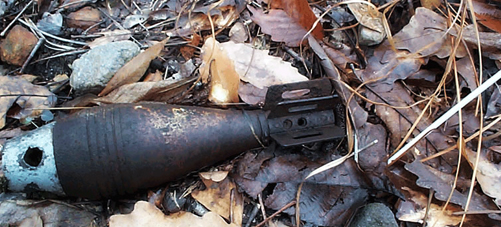 Military Munitions Response Program Updates
Munitions Response Dialogue (MRD)
DoD established the MRD to foster communication and collaboration between representatives from the Office of the Secretary of Defense (OSD), DoD Components, and U.S. Environmental Protection Agency (EPA); State environmental regulators; and Federal Land Managers (FLMs). These entities use their experiences and expertise to exchange views, information, and advice relating to managing or implementing the Military Munitions Response Program (MMRP).
The MRD has held seven face-to-face meetings to date, with the most recent meeting taking place on August 25-26, 2015, in Arlington, Virginia. At the meeting, members of the MRD continued to discuss transitioning advanced classification to more common use in the field and the tools necessary to make that transition. These tools include the DoD advanced geophysical classification accreditation program, the updated advanced classification Quality Assurance Project Plan (QAPP), and training. The group also discussed construction support for land use controls (LUCs) and underwater munitions.
DoD developed a fact sheet to provide information about each of the stakeholder groups working on advanced classification and their activities to transition the technology to more common use in the field.
DoD is planning the next MRD face-to-face meeting for February 17-18, 2016, in Arlington, Virginia. During this meeting, the group will discuss information and details to include in decision documents, the munitions and explosives of concern QAPP, advanced classification training, and LUCs.
Unexploded Ordnance (UXO) Demonstrations
DoD is committed to transitioning advanced classification for regular use in the private sector. Advanced classification improves the efficiency of munitions cleanup by discriminating between UXO and harmless metal objects (e.g., horseshoes, iron rock, fragments, munitions debris) with almost perfect reliability.
DoD has completed or is in the process of conducting classification site demonstrations at 22 sites to date. Demonstrations are currently underway for Hawthorne Army Depot, NV; Fort Bliss, TX; Former Camp Ellis, IL; Former Waikoloa Maneuver Area, HI; Former Southwestern Proving Ground, AR; New Boston AFS, NH; and Guam. DoD completed a comprehensive "end-to-end" demonstration in San Luis Obispo, CA in August 2014 with participation from MRD members.
For more information about the UXO demonstrations, please visit this website.
For more information about the dangers posed by UXO and munitions of concern, please visit this website.
Interstate Technology & Regulatory Council (ITRC) Publishes Geophysical Classification for Munitions Response Guidance Document
On August 24, 2015, ITRC published a web-based guidance document on advanced classification. The document explains the process of geophysical classification; describes its benefits and limitations, including site-specific characteristics that are not conducive for advanced classification; and provides information about the data regulators need to monitor and evaluate the use of the technology. The target audience is program managers and project delivery teams that will work on projects using advanced classification. The guidance document is available at http://www.itrcweb.org/gcmr-2.
DoD developed advanced classification to improve the efficiency of cleaning up munitions and to focus its resources on addressing the potential explosives safety risks at munitions response sites. DoD is in the process of transitioning advanced classification to more widespread use in the field. Within the next year, DoD will establish and support the tools necessary to ensure the appropriate quality control measures are in place for advanced classification. These tools include the DoD Advanced Geophysical Classification Accreditation Program, the advanced classification quality assurance project plan, and an updated target of interest library.
As a follow up to the advanced classification guidance document, ITRC will host an internet-based training course in November 2015. This course will provide technical and regulatory guidance for the application of geophysical classification using advanced sensors for munitions response projects. ITRC is a State-led public-private coalition that promotes using environmental technologies designed to reduce compliance costs and maximize cleanup effectiveness. ITRC produces documents and training to increase technical knowledge and support regulatory decision making. For more information on ITRC, please visit http://itrcweb.org/.
Policy/Guidance
Outreach
Cleanup Tools
Munitions Response Site (MRS) Inventory