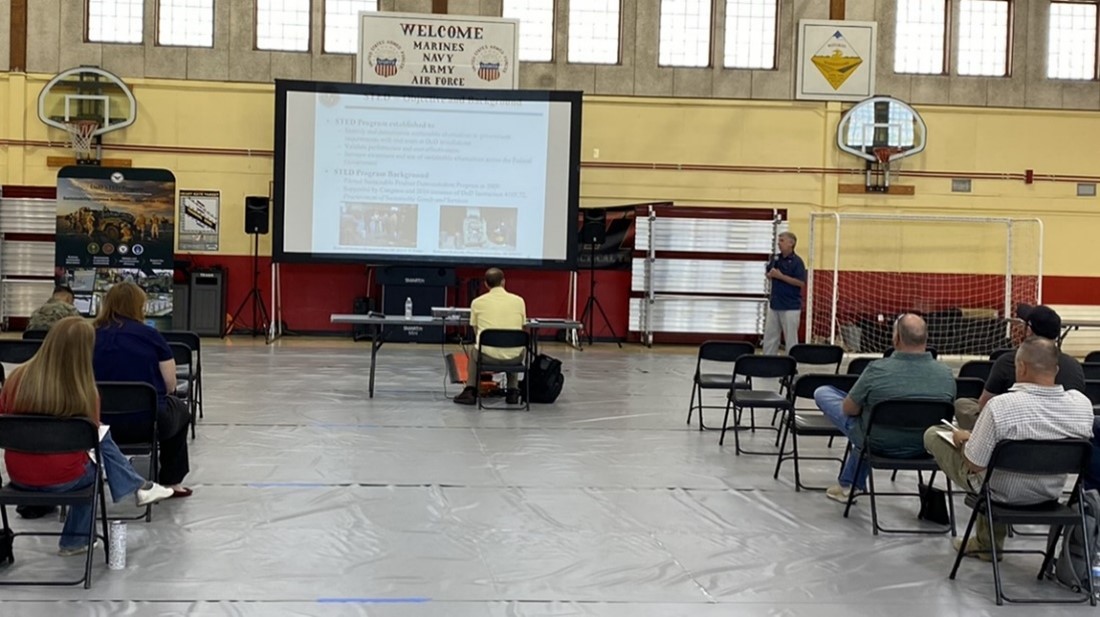 The DoD STED Program conducted a sustainable technology expo and workshop for installations in the Mojave Desert region, held at Marine Corps Logistics Base (MCLB) Barstow, California on July 19th, 2022. The Expo was attended by representatives from MCLB Barstow, Fort Irwin/National Training Center, Marine Corps Air Ground Combat Center Twentynine Palms, Naval Air Weapons Station China Lake and NASA Armstrong Flight Research Center.
Attendees were introduced to the STED Program and personnel by OSD Sustainability & Acquisition Director, Dave Asiello, followed by brief presentations on sustainable technologies and procurement. Attendees also had the opportunity to meet with manufacturers of several successfully demonstrated sustainable technologies: LED chem lights, biobased sorbents, sustainable door systems, and biobased cleaner, lubricant, preservative (CLP) for weapons and weapon systems.
Attendees also enjoyed lunch served on compostable PFAS-free service ware and participated in a round table discussion regarding sustainable product need areas and challenges at their respective installations and throughout the Mojave Desert region.