Demonstration Overview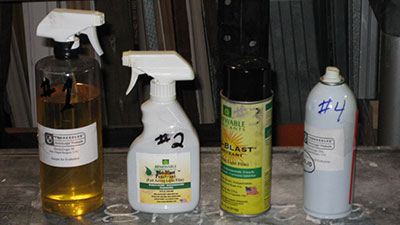 The Defense Logistics Agency (DLA) Aviation Hazardous Minimization and Green Products Branch and the National Defense Center for Energy and Environment (NDCEE) demonstrated biobased penetrating lubricants at Department of Defense Installations.
Biobased penetrating lubricants have been designated for Federal procurement preference by the United States Department of Agriculture (USDA) BioPreferred Program. The BioPreferred Program defines penetrating lubricants as
"Products formulated to provide light lubrication and corrosion resistance in close tolerant internal and external applications including frozen nuts and bolts, power tools, gears, valves, chains, and cables. "
The BioPreferred Program established a minimum biobased content of 68 percent for biobased penetrating lubricants.
Before these green and biobased products are utilized by the Military Departments and DoD Components, their performance must be proven to meet DoD requirements. The biobased penetrating lubricant products participating in this demonstration meet the requirements of Commercial Item Description A-A-50493, Oil, Penetrating (for Loosening Frozen Metallic Parts).
Demonstration Products
The following biobased products were demonstrated.
Bio-Blast™ Penetrating Lubricant by Renewable Lubricants Incorporated
EnviroLogic® 38 Penetrating Lubricant by Terresolve Technologies, Ltd.
*Mention of or referral to commercial products, services, and manufacturers herein is provided for informational purposes only and does not constitute endorsement by, nor the official policy or position of, the Department of Defense (DoD), any of its Components, or the U.S. Government.
Demonstration Sites
Field demonstrations of these products were performed at the following DoD installations to evaluate their performance in Military operational environments and to raise awareness in the availability of these products.
Fort Bragg
Fort Meade
Fort Jackson
U.S. Army Garrison Hawaii (USAG-HI)
Joint Base Lewis-McChord (JBLM)
Joint Base Pearl Harbor Hickam (JBPHH)
Joint Base Charleston (JBC)
Yakama Training Center (YTC)
Naval Base Kitsap at Bangor (NBKB)
Naval Hospital Beaufort
Marine Corps Air Ground Combat Center (MCAGCC) Twenty Nine Palms
Marine Corps Air Station (MCAS) Camp Pendleton
Marine Corps Base (MCB) Camp Pendleton
Marine Corps Base Hawaii (MCBH)
Marine Corps Recruit Depot (MCRD) Parris Island
Marine Corps Mountain Warfare Training Center (MCMWTC) Bridgeport
South Carolina Army National Guard (SCARNG)
Pentagon
Demonstration Details
Installation personnel were provided a supply of the products and were asked to provide feedback on the product performance. The maintenance activities within the participating installations found the biobased penetrating lubricants to be acceptable alternatives to their currently used petroleum based products.
As a result of these demonstrations and installation requests for these products, DLA Aviation revised CID A-A-50493 to add a Class A – Biobased and established the following National Stock Numbers for biobased penetrating lubricants:
Demonstration Product National Stock Numbers
NSN / Container Size
9150-01-591-4213 / 1 pint can
9150-01-591-4247 / 1 gallon can
9150-01-591-4281 / 55 gallon drum
9150-01-591-4274 / 11 ounce aerosol