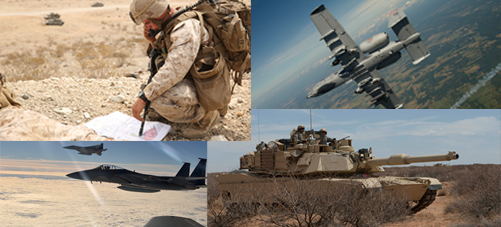 Operational Range Assessment Program
DoD uses and manages operational ranges to support national security objectives and maintain the high state of operational readiness essential to its mission requirements. The Department conducts operational range assessments (ORAs) to support the long-term sustainability of these ranges while protecting human health and the environment.
Operational Range Assessment Policy
The overarching DoD policy and procedures for ORAs are in DoD Instruction (DoDI) 4715.14, Operational Range Assessments. DoDI 4715.14 outlines the requirements for DoD Component guidance on ORAs. In addition, DoDI 3200.21, Sustaining Access to the Live Training Domain and DoDD 3200.15, Sustaining Access to the Live Training and Test Domain, provide policy for sustaining operational use of and access to the live training and test domain that includes sound resource and environmental management practices (e.g., conducting operational range assessments).
Operational Range Assessments Process
The purpose of an ORA is to determine if there is a release or substantial threat of a release of munitions constituents (MCs) from an operational range to an off-range area that exceeds an applicable regulatory standard or creates a potential unacceptable risk to human health or the environment. MCs are any materials originating from unexploded ordnance, discarded military munitions, or other military munitions. The DoD Component conducts ORAs by:
Identifying possible MCs based on current or historical range use.
Identifying potential source areas, pathways, and receptors for the MCs.
Evaluating technical data to determine if there is a current or potential off-range source-receptor interaction.
Developing a sampling strategy and conducting sampling, if necessary.The DoD Component assesses its operational ranges in the United States at least every 5 years or whenever significant changes occur that may affect determinations in a previous assessment. Based on the ORA results, the DoD Components may notify the Office of the Secretary of Defense or appropriate regulatory authorities depending on the circumstances. The DoD Components may also implement proactive management practices and address the off-range release as appropriate (e.g., through the Defense Environmental Restoration Program).