FY2021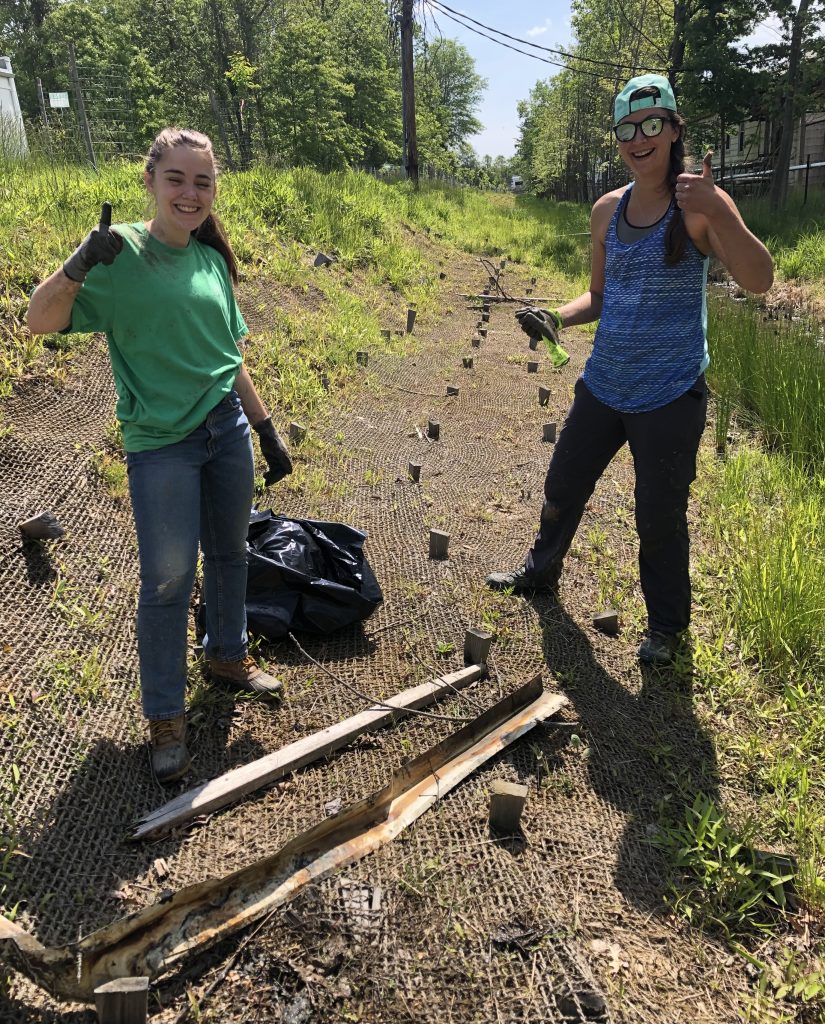 Volunteers Making an Impact
NSA Washington and Naval Surface Warfare Center (NSWC) Carderock (MD) staff walked 1.2 miles of the Rock Run Stream to collect trash and debris during their annual cleanup event. This trash blocked stream flow and created pools of water that both prevented vegetation growth and increased the possibility of flooding. During this cleanup, volunteers collected 162 lbs of waste from the stream, mitigating some future flooding impacts that could have damaged mission essential equipment.
Maintaining Treasured National Trails
Joint Expeditionary Base Little Creek – Fort Story (VA) environmental staff and volunteers assisted in maintaining and improving the Heroes Circle Nature Trail, which honors fallen service members. Overgrown vegetation was trimmed back and 96 new dogwood trees were planted throughout the trail. Trail signage was revised to provide updated information and images of local wildlife species and freshwater marsh ecosystems. Efforts such as these have kept this trail a desired place for personnel to appreciate nature and remember those who have made the ultimate sacrifice for their country.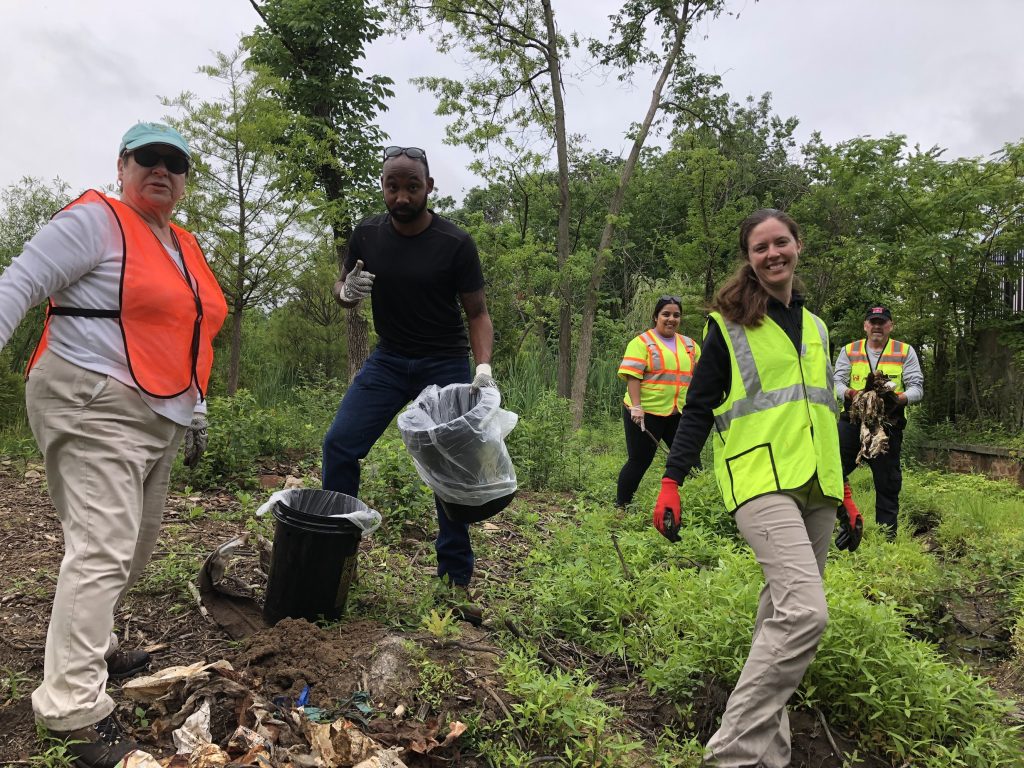 Promoting Environmental Stewardship During Clean the Base Day
Volunteers from Joint Base Myer-Henderson Hall (JBM-HH) and Arlington National Cemetery (ANC) (VA) joined together in June of 2021 to participate in Clean the Base Day efforts. Trash was removed throughout the installations' property boundaries. A total of 245 lbs of trash and approximately one cubic yard of scrap metal was collected during this event. Waste collection prevents trash from entering stormwater systems and waterbodies, protecting local water quality and wildlife and prevents flooding.
Educating Communities on Sustainable Practices
Army Reserve National Guard (VA) assisted the Virginia Tech Southern Piedmont Agricultural Research and Extension Center by educating almost 300 elementary school students on science topics during its Agricultural Days. Katy Overby, Virginia Department of Military Affairs, presented on the benefits of vermicomposting to 3rd grade students. Vermicomposting (composting with earthworms) supports the reduction of food waste and promotes sustainable habits to future generations. View the videos at: https://www.youtube.com/playlist?list=PLGaeEiRdPaCXT5d_Q_6-Cp958TWtHo8Jo
FY2020
In FY2020, the COVID-19 pandemic forced the cancellation of many in-person events. Installations responded by adapting to virtual formats and finding new ways to connect with DoD service members, civilian employees, their families, and the public.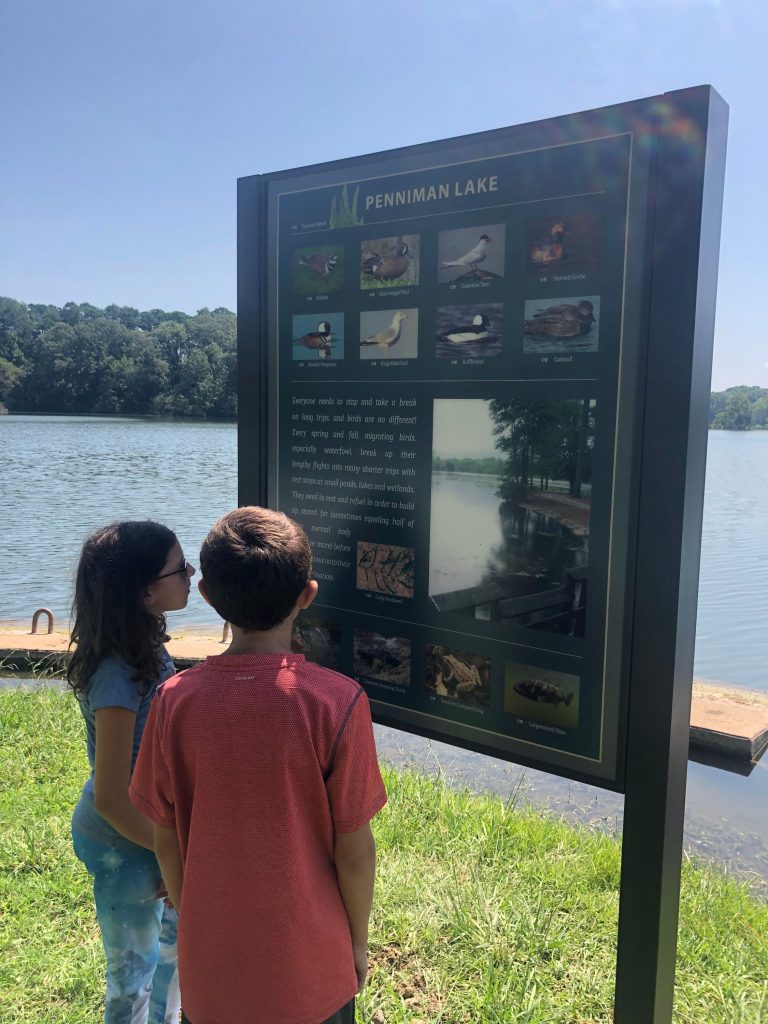 Educating Hikers, Anglers, and Hunters
NWS Yorktown (VA) installed educational signage at the installation's fishing lakes and hiking and nature trails to educate visitors about the environment. A total of six signs were placed at the entrances of the installation's 6-mile nature trail and at three lakes: Jones Pond, Cheatham Lake, and Penniman Lake. The signs contain information about the local environment, the area's common flora and fauna, and conservation efforts to provide a more interactive experience for visitors.
Promoting Safe and Sustainable Hunting Practices
Approximately 5,000 hunting and fishing visits occur at Letterkenny Army Depot (LEAD) (PA) each year. These trips include annual hunts for the Wounded Warriors organization and Hunt of a Lifetime, an event for children with life-threatening illnesses. Each year, LEAD provides a presentation about the hunting program, hunting safety practices, and information on the LEAD natural resource program. Coordination among the directorates at LEAD ensures the hunting program does not impact the installation's mission.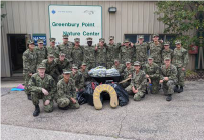 Using Volunteers to Make an Impact
Greenbury Point at NSA Annapolis (MD) is a training and recreation site for midshipmen from the U.S. Naval Academy and personnel at NSA Annapolis. In FY2020, volunteers from the Midshipmen Action Group's participated in two clean-up events at Greenbury Point where a total of 69 midshipmen removed approximately 110 lbs of garbage and 374 lbs of invasive species/debris. The volunteers also installed an interpretative sign at the nearby Pipsissewa Trail with information about barred owl, loblolly pine, and local invasive species. The two FY2020 events took place before COVID protocols were established.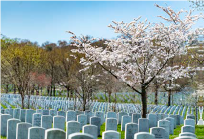 Educating Communities on Sustainable Practices
Arlington National Cemetery (ANC) (VA) is committed to environmental sustainability. Visitors can tour the installation's rain gardens that protect water quality. In FY2020, the installation's outreach was expanded to include a series of YouTube videos highlighting the importance of native plant species, the benefits of rain gardens, tree populations, and ecologically conscious landscaping. The videos can be found on the ANC YouTube page at this link: https://www.youtube.com/channel/UCdviiwqQHHUePZglBHXFvPw/videos
FY2019
In FY2019, DoD installations hosted a variety of volunteer-based events, such as Clean the Bay Day, Clean the Base Day, Arbor Day, Earth Day, and Public Lands Day. Through these events, installations provided opportunities to engage in stewardship activities that contributed to the physical restoration of the watershed. DoD staff also host or participate in education and outreach events featuring topics like pollution prevention, sustainable practices, recycling, and stormwater management.
Norfolk Naval Shipyard (NAVSEA) (VA) hosted an Earth Day event with over 800 shipyard employees and more than 20 local environmental organizations. Visitors engaged with community groups including Lynnhaven River Now, Evelyn's Wildlife Refuge, the Elizabeth River Project, Dominion Energy, and the Norfolk Beekeepers Association. Over 320 employees made pledges to properly dispose of household hazardous waste, use reusable bags, opt for green cleaning products, or use a reusable water bottle.
NSF Indian Head (MD) hosted a youth fishing derby at the Stump Neck Annex Area 8 Pond. This annual event allows children to learn about fishing techniques and ethics while having fun. Derby participants are dependents of active duty, civilian, and contractor personnel that have access to the installation. This year, approximately 30 children under the age of 15 participated.
Fort Belvoir (VA) maintains approximately 14 miles of hiking trails throughout its special natural areas. To improve the conditions of these hiking trails, several repairs and improvements were completed in FY2019. The Basin Trail was rerouted to avoid wet areas and provide a more stable path for hikers, trails were marked using a color-coded system for easier navigation, and repairs were made to various foot bridges and substrate to provide drier and safer trail conditions.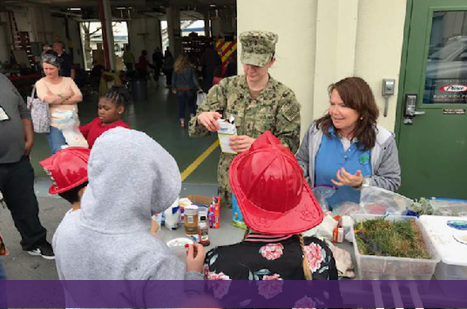 By combining its Earth Day and Bring Your Child to Work Day celebrations, NSA Mechanicsburg (PA) has brought environmental awareness and education to audiences of all ages for over 20 years. Its 2019 Earth Day activities included edible models demonstrating the impact of spills on the environment, informational lessons about key pollinator species, and clean-up of the installation's stormwater BMPs.
FY2018
In FY2018, DoD installations hosted many volunteer-based events, such as Clean the Bay Day, Clean the Base Day, Arbor Day, Earth Day, and Public Lands Day. Through these events, installations provided opportunities to engage in stewardship activities that contribute to the physical restoration of the Bay.
Learning about Agriculture
In April 2018, the ARNG in VA participated in the 3rd Grade Agriculture Awareness Days at the Virginia Tech Southern Piedmont Agricultural Research and Extension Center in Blackstone, Virginia. More than 400 students, teachers, and parents visited during the two-day event. The event included 15 learning stations and covered topics like soil erosion and the water cycle. ARNG had a station that demonstrated the importance of worms to enhance soil health and composition.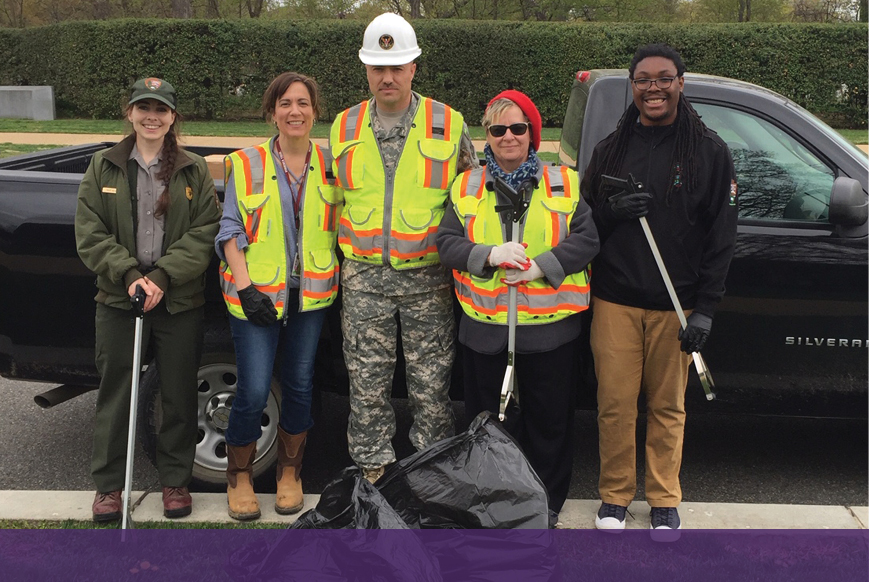 Keeping our Nation's Capital Clean
In 2018, Arlington National Cemetery (VA) along with the National Park Service held its second annual clean-up of Memorial Avenue in Arlington, Virginia. In total, eight volunteers removed 17 pounds of trash and debris from the road and nearby greenspaces. The event successfully reduced the chance for pollutants to enter storm drains and subsequently, the Potomac River.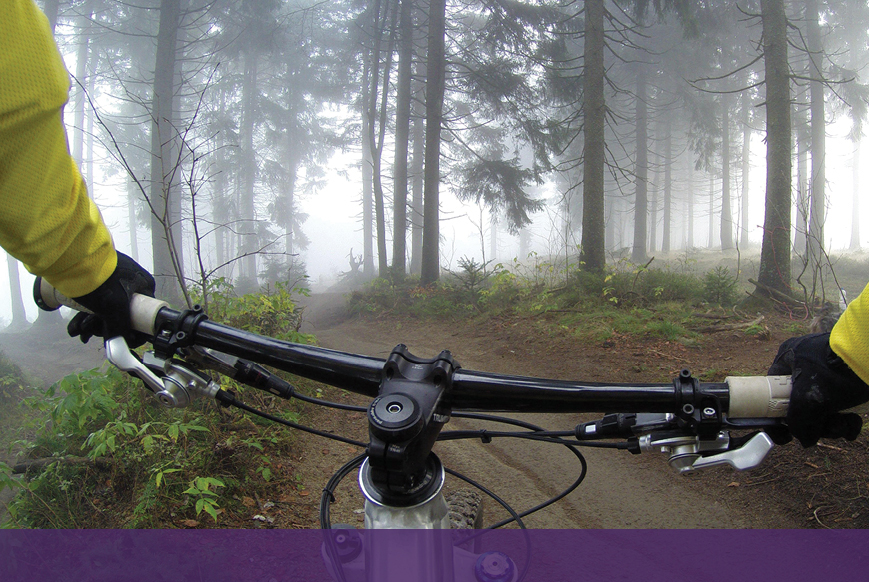 Providing Recreation at MCB Quantico
MCB Quantico (VA) expanded public access by extending the Breckenridge Bike Trail in FY2018. The Quantico Mountain Bike Club volunteered 1,000 hours to build 15 miles of dirt trails for bicyclists and pedestrians. In August 2018, the trail opened to the public, creating new opportunities to experience and enjoy the extensive natural areas found at the installation.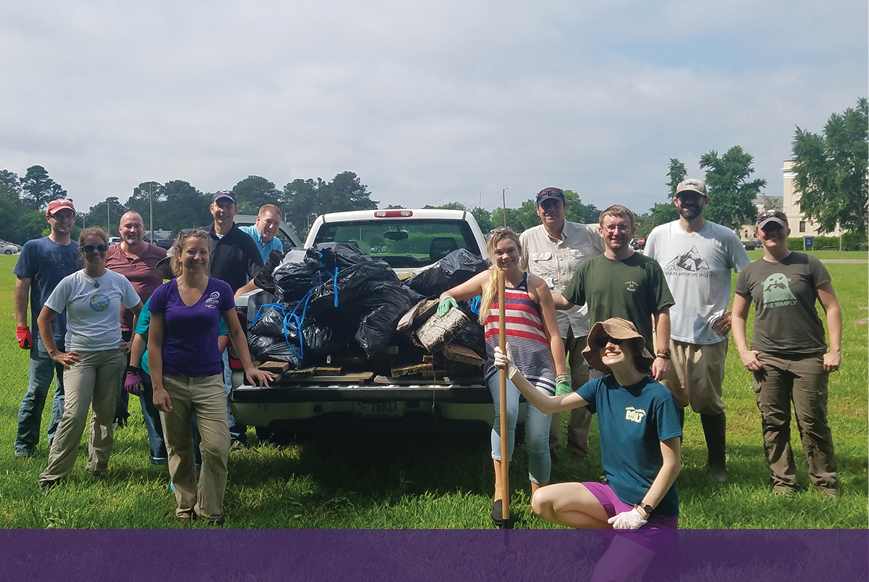 DoD Installations Cleaning the Bay For the 30th anniversary of Clean the Bay Day, 1,291 military service members and their families at DoD installations Bay-wide joined with local communities to show their commitment to a cleaner and healthier Bay. They cleaned 33 miles of shoreline and removed 28,035 pounds of trash and debris from waterways.  
FY2017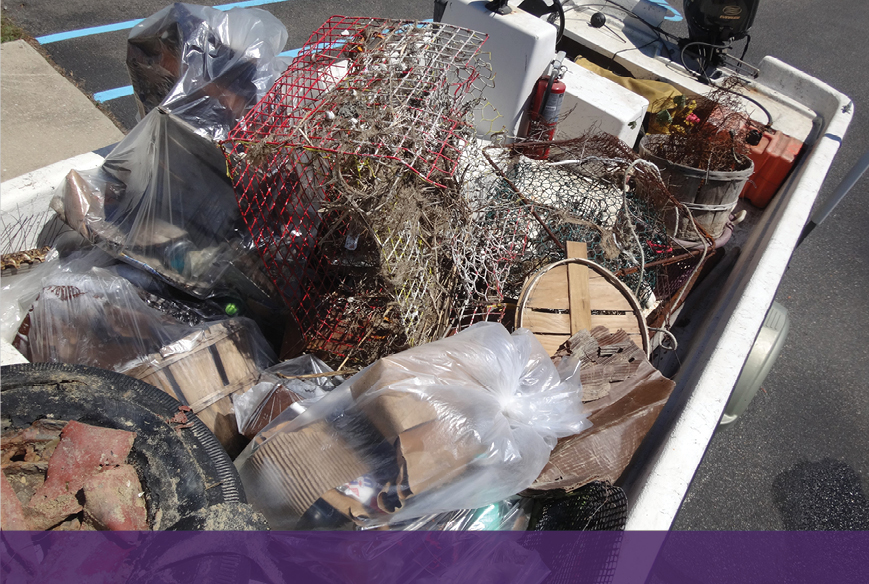 Coming together for a cleaner Bay
Camp Peary partnered with their 4-H Club to celebrate Clean the Bay Day. During the event, 40 adult and children volunteers collected litter and debris from three miles of shoreline along the York River. Together, the group removed approximately 750 pounds of litter and debris.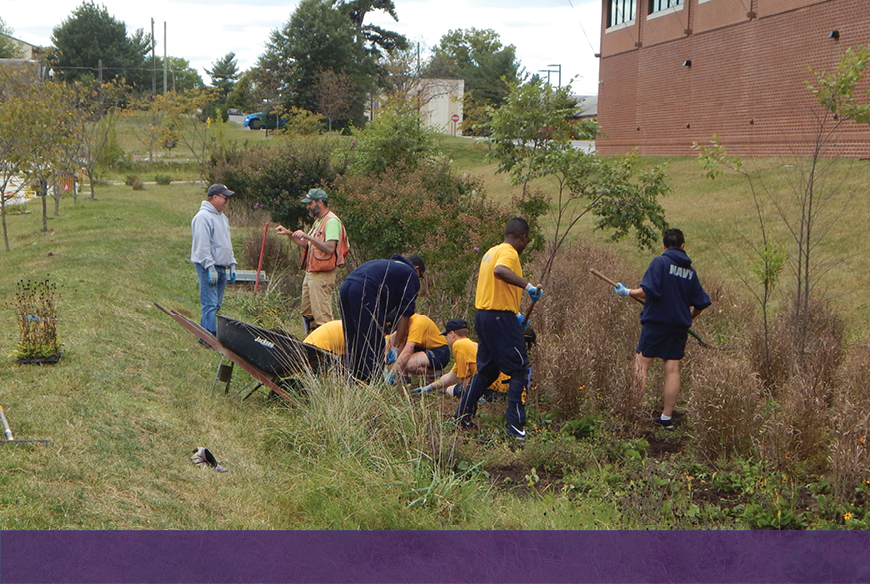 Working together to reduce stormwater pollution impacts
On National Public Lands Day, Fort George G. Meade engaged volunteers to provide needed maintenance for stormwater BMPs and educate event attendees about stormwater pollution. Volunteers also replaced plants that died due to weed proliferation with new Black-eyed Susan and switchgrass.
Protecting the Potomac waterfront
Joint Base Anacostia-Bolling hosted an Earth Day event, during which volunteers collected 84 bags of recyclable material, 86 bags of trash, and approximately 45 pounds of bulk trash from six different zones along the Potomac waterfront. Sponsors included the Anacostia Watershed Society and DC Water.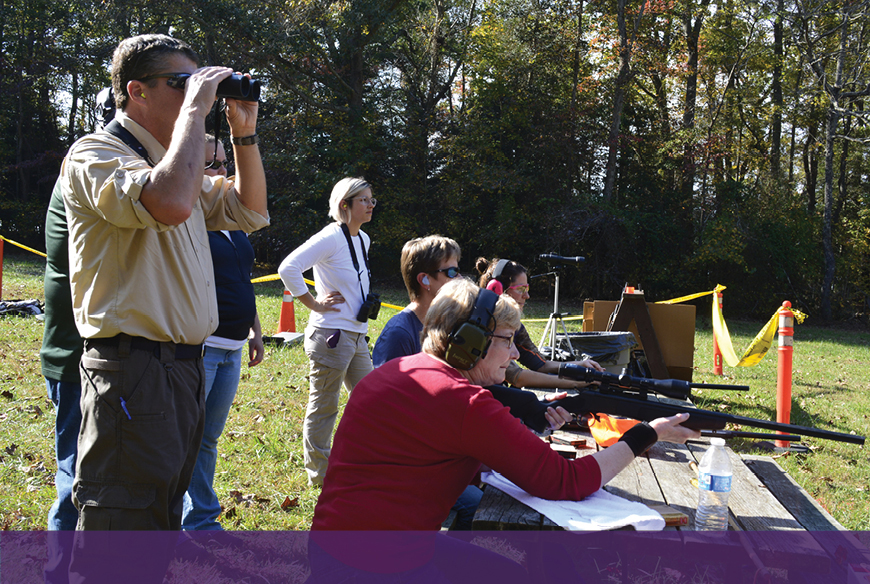 Engaging the public through recreation
U.S. Army Garrison Adelphi Laboratory Center Blossom Point Research Facility hosted a Becoming an Outdoor Woman (BOW) White-tailed Deer Hunting Workshop. This two-day event gives women introductory experiences and instruction on deer biology, tracking, and tree stand and fire arms safety, helping to increase the connection between the surrounding land and the event's attendees.
FY2016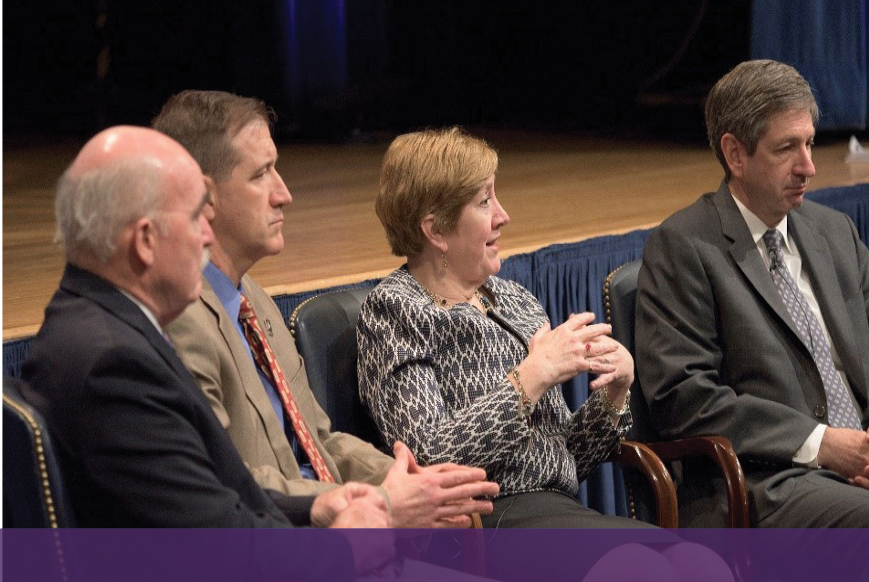 Brainstorming solutions for tomorrow
The Pentagon hosted an Earth Day event, bringing together more than 75 DoD employees, guests, and speakers from the Office of the Secretary of Defense, the Army, the Air Force, and the Navy. Attendees discussed climate change and its potential impacts on mission accomplishment, including rising sea-levels threatening coastal installations and rising temperatures affecting our troops' safety and ability to perform.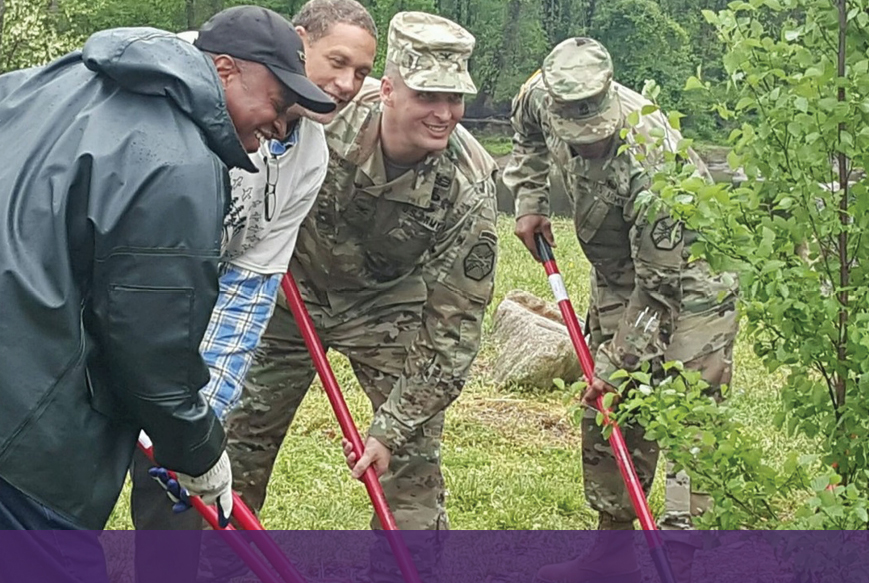 Working together to beautify Virginia's Patton Park
Fort Lee partnered with the City of Petersburg to celebrate Earth Day by beautifying Patton Park along the Appomattox River. Approximately 100 volunteers came together to clean multiple park sites, plant wildlife and pollinator plants, and install two raingardens that capture stormwater runoff and reduce the amount of pollutants discharging to the river.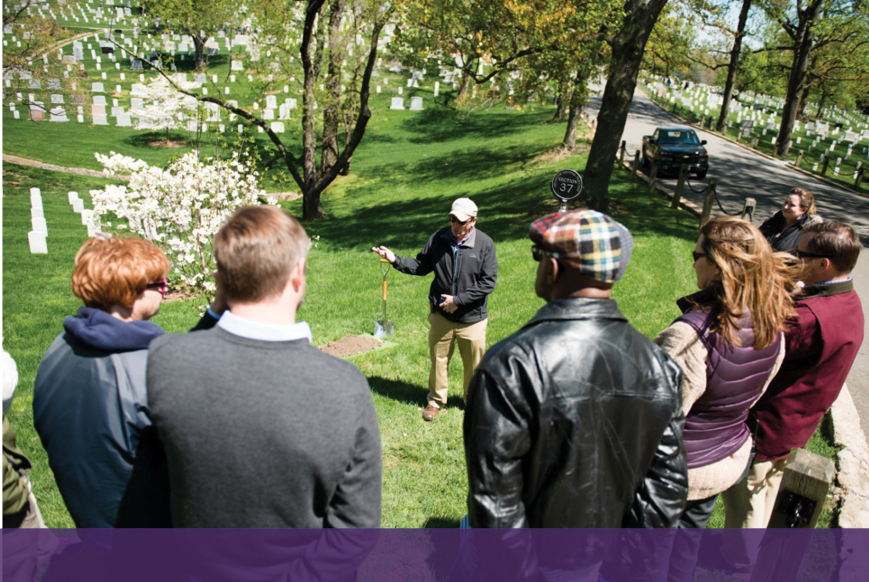 Celebrating Arbor Day at one of the Nation's most sacred places
On Arbor Day, Arlington National Cemetery hosted visitors for a ceremonial tree planting, and a walking tour of trees within the cemetery and the Memorial Arboretum.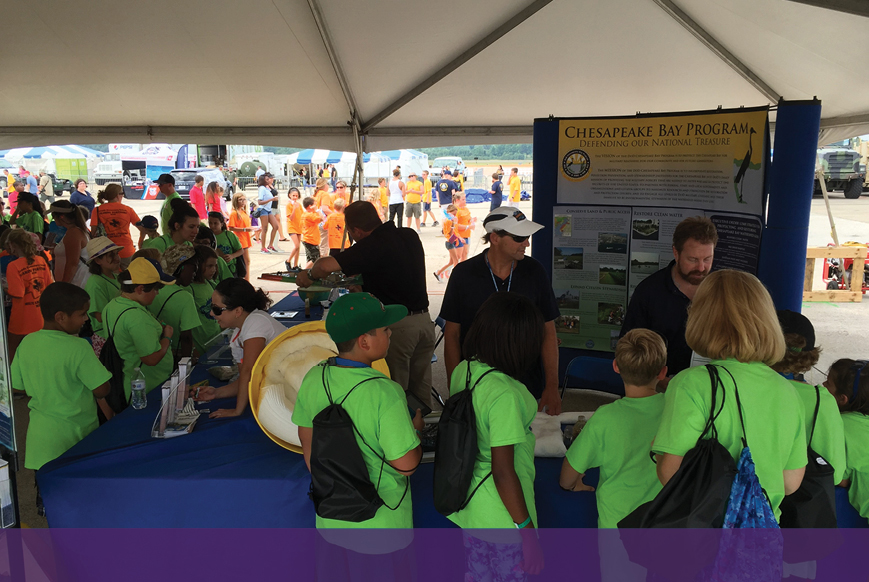 Advancing students' environmental awareness
In partnership with Virginia Beach City Public Schools, NAS Oceana hosted the first-ever STEM outdoor laboratory for local grade school students from approximately 60 schools. More than 6,500 fifth graders experienced hands-on instruction in STEM subjects and participated in engineering design challenges. The DoD CBP and Naval Fleet Forces Command also supported the event with exhibits on pollution prevention and sustainability.