Clean Water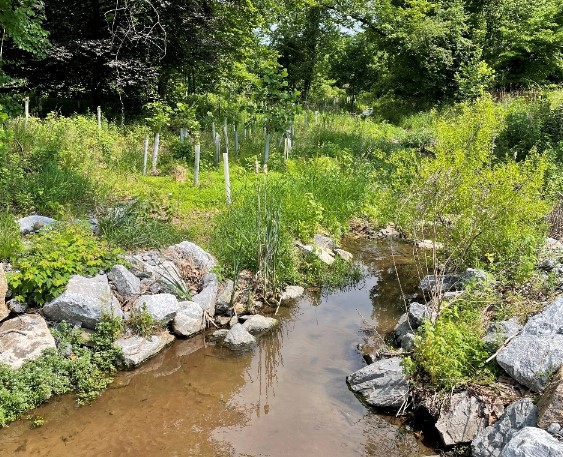 Developing a Resilient Floodplain
In FY2021, Defense Distribution Center, Susquehanna (PA) constructed a wetland with a receiving area of 9.35 acres, cumulatively restored 3,500 linear feet of streams, and conducted a total of 14 floodplain restoration projects. While the constructed wetland project was selected to restore areas overtaken by invasive species, the stream and floodplain restoration projects were identified as methods to provide effective pollutant reductions with the least long-term costs. Overall, implementing these BMPs will provide the installation and downstream regions with erosion control, enhanced nutrient removal, and runoff reduction.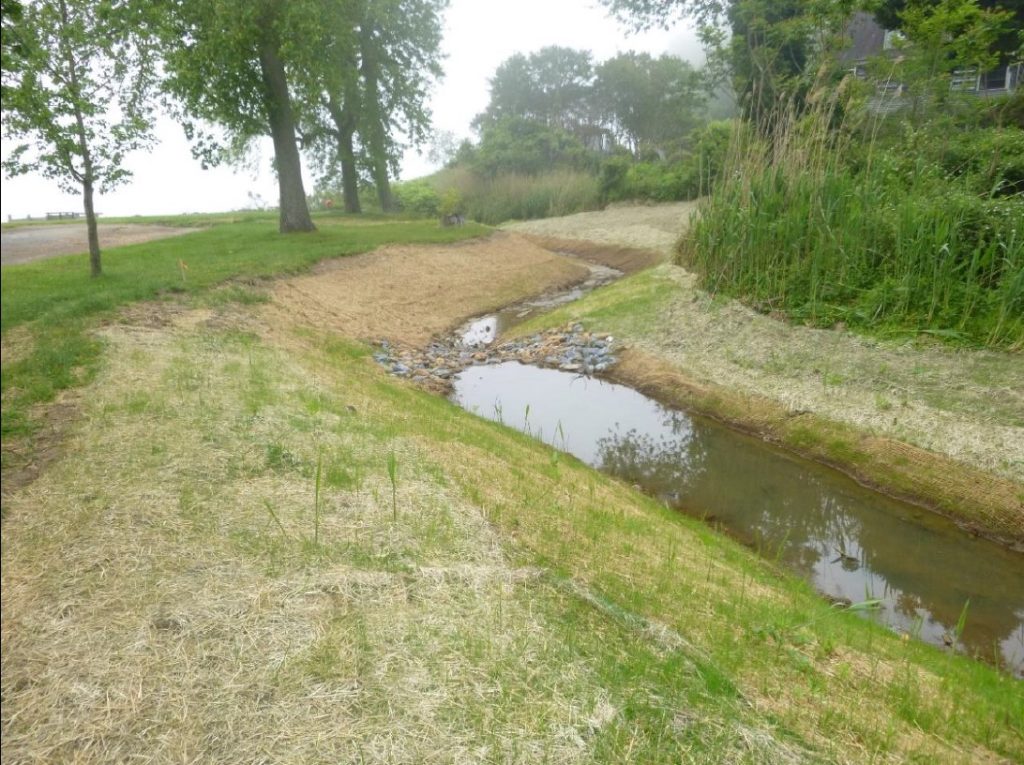 Restoring and Stabilizing Streams
The Naval Research Laboratory Chesapeake Bay Detachments (NRL CBD) (MD) restored 1,816 linear feet of unstable stream in FY2021. The pre-restoration state of this stream reach was eroded with conditions that could not support fish habitat. This project used natural stream design and step pool techniques as well as repaired existing stormwater infrastructure to reduce streambed and bank instability, reduce sediment and nutrient loads, promote floodplain connectivity, and enhance native species habitat. Such efforts not only repair the conditions of the stream, but also support healthy habitats in the surrounding land areas, including for over 2,000 square feet of wetlands.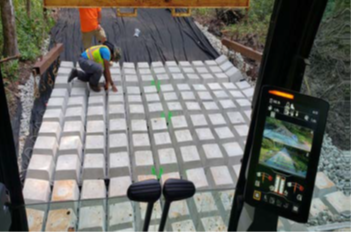 Reducing Erosion and Sustaining the Mission
Fort Lee's (VA) Integrated Training Area Management (ITAM) program utilizes U.S. Department of Agriculture designed BMPs to control water quality runoff from its 26 miles of tactical vehicle and 5.1 miles of dismounted maneuver trails. In the past year, the tactical vehicle trails were upgraded to articulated concrete, which provides stable ground for vehicle passage without increasing Fort Lee's impervious land cover. Additionally, the ITAM team applies a 4-inch layer of wood mulch generated from the installation's forestry and grounds maintenance operations to stabilize these dismounted maneuver trails on a bi-annual cycle. This practice prevents trail erosion and diverts an estimated 2,000 tons of wood debris from landfills.
Abundant Life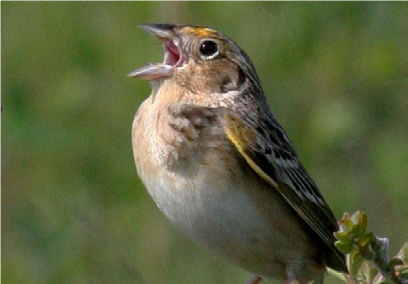 Enhancing Pollinator Habitats
Fort Lee (VA) maintains 40 acres of open grassland which is home to numerous wild sedges and flowers. This land hosts one of the densest populations of grasshopper sparrows, a declining species, in the Mid-Atlantic region. To create focal points of pollinator species for observers, the installation has begun converting two acres of this grassland in patches to pollinator-friendly habitat. Though this project is only partially complete, staff have already seen notable increases in pollinator species in these patches with particularly high response from threatened monarch butterflies surrounding the newly planted milkweed.
Stabilizing Pond Shorelines with Native Wetland Vegetation
NSA Bethesda (MD) is utilizing a combination of invasive species management and native wetland species planting to enhance the shoreline of its University Pond. In FY2021, the installation applied herbicides to invasive species which sprawled over the pond shoreline, restricting growth of native species and increasing erosion on the edge of the pond. Shoreline enhancement efforts for the University Pond are to be completed in FY2022 with the planting of native rushes and sedges. Once completed, this once degraded pond will be home to a flowering upland and aquatic ecosystem of high ecological and aesthetic value.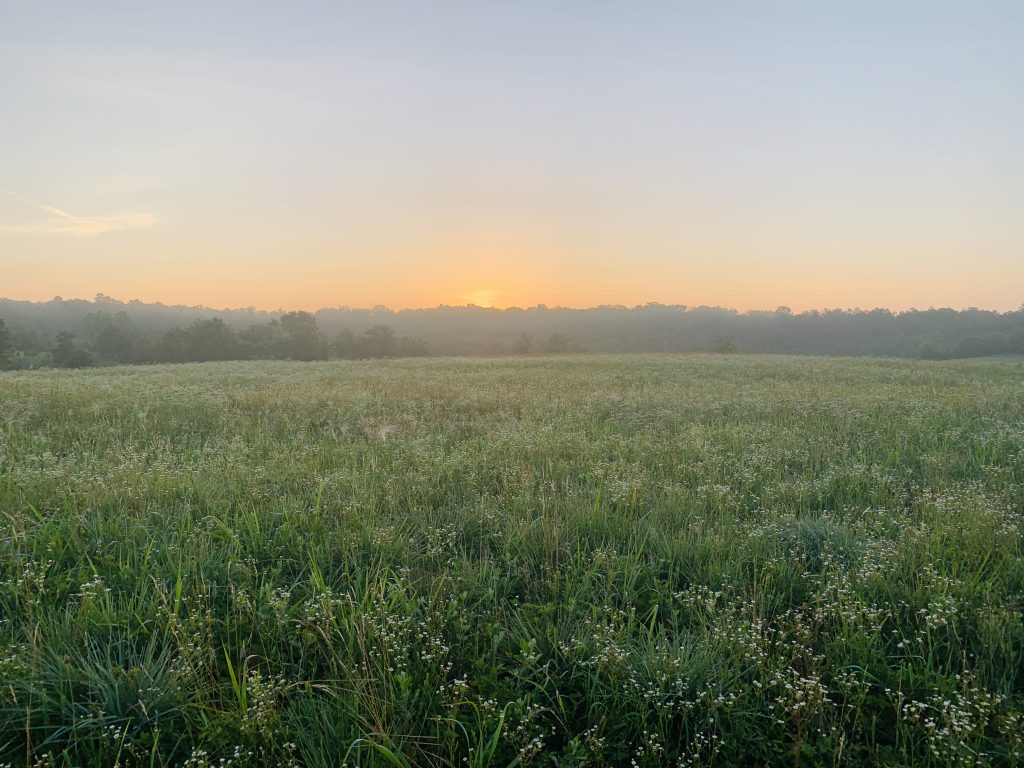 Restoring Habitats for Species Conservation
Fort A. P. Hill (VA) manages 750 acres of open area habitat for species conservation. The installation both disperses seeds to promote native pollinator-friendly plant growth and uses a combination of prescribed fires, tilling, and mowing to combat invasive species and promote native warm season grasses. These practices help maintain an early successional habitat that is home to a multitude of species, including birds such as the bobwhite quail and grasshopper sparrow, and pollinators such as the American bumblebee and the migratory monarch butterfly.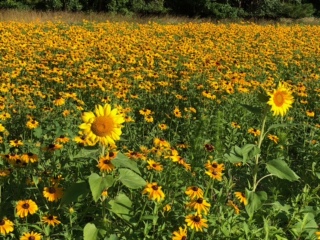 Promoting Biodiversity through Land Conversion
In FY2021, Joint Base Langley Eustis (JBLE) – Eustis (VA) created 44 acres of meadow from fallow land as part of its annually recurring conversion effort. The installation seeds the conversion sites with native warm-season grasses and forbs which were selected to create early successional habitats that attract various species. These new plant assemblages improve soil quality, reduce stormwater runoff, and support the biodiversity goals of the JBLE-Eustis INRMP.
Conserved Land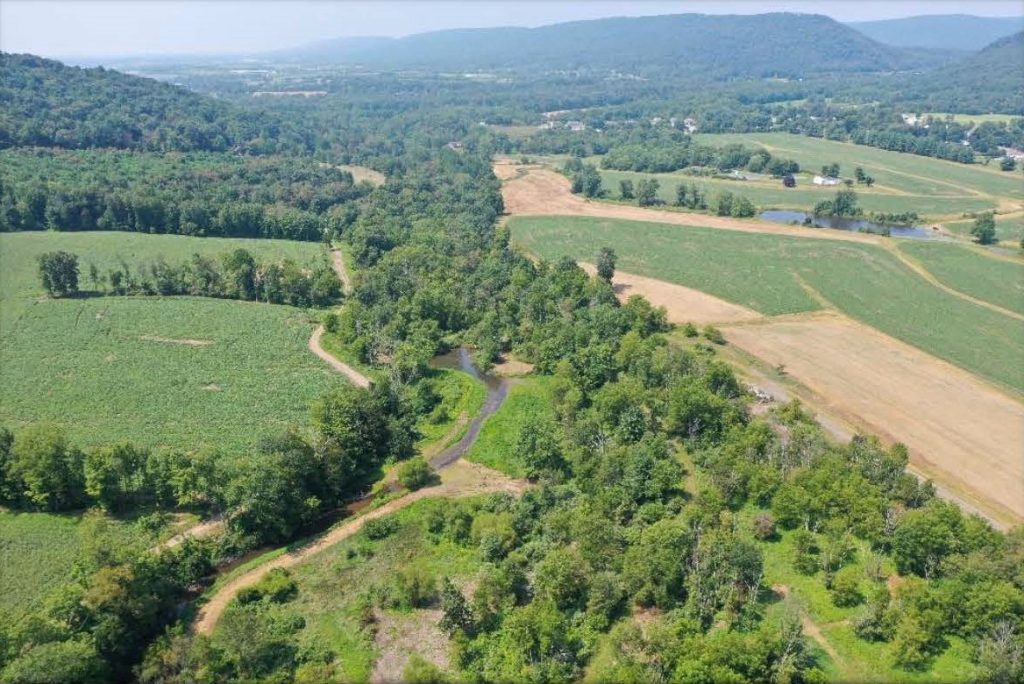 Preserving Agricultural and Riparian Land
In FY2021, Fort Indiantown Gap's (PA) Army Compatible Use Program (ACUB) protected 205 acres of land through two projects. Each year, the installation and its partners select targeted ACUB projects based on several factors, including military mission priorities and secondary conservation benefits. The easements purchased in FY2021 maintain unrestricted aviation training east of the installation, prevent incompatible development around the installation, preserve riparian areas along a portion of Monroe Creek, and protect working agricultural land. The conservation of these parcels was assisted by the installation's external partners, the Ward Burton Wildlife Foundation and the Ever Green Team.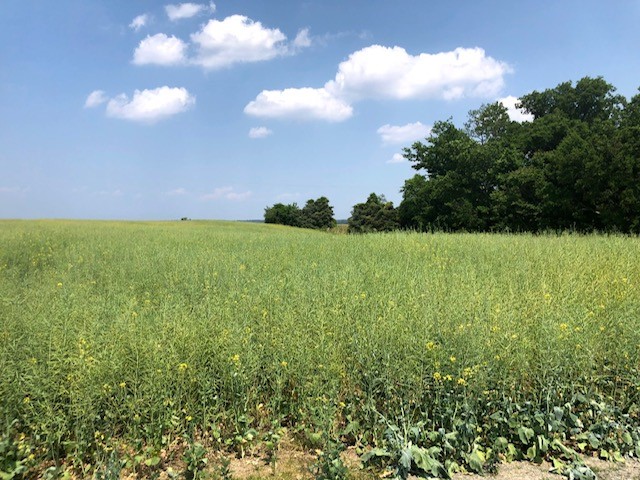 Limiting Encroachment and Protecting Land
Leveraging both REPI funds and landowner donation, NSF Dahlgren (VA) partnered with the Virginia Outdoors Foundation and the Trust for Public Land, to protect 824 acres of land over three properties. These easements reduce encroachment pressures along the Potomac River Test Range corridor, a unique testing environment which extends over 50 miles from the installation to the mouth of the Potomac River at the Chesapeake Bay. In addition to protecting mission-critical land and activities, these easements support the commonwealth of Virginia's land conservation goals and protects existing wildlife habitats from development losses.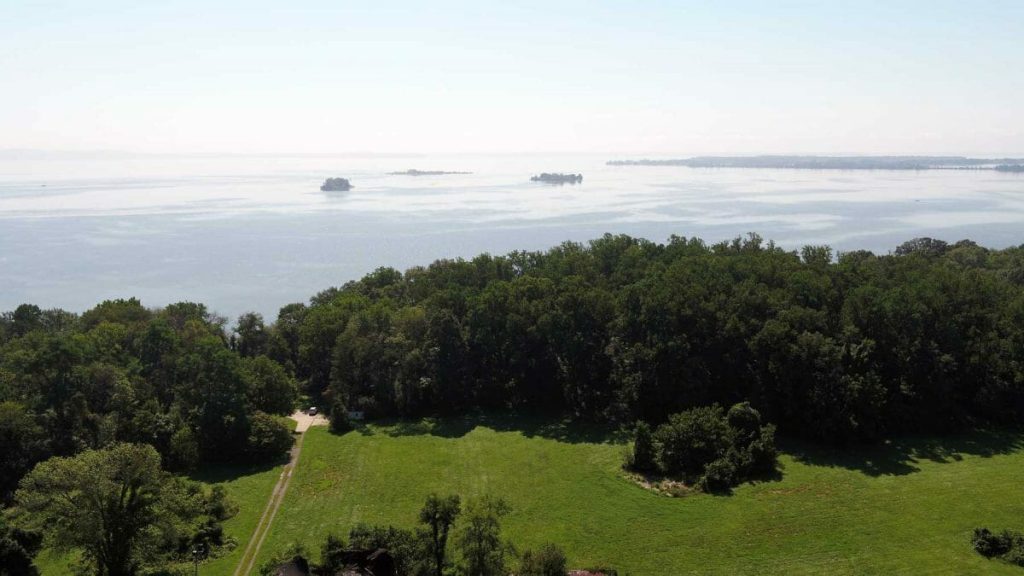 Partnering to Conserve Chesapeake Bay Shoreline
Aberdeen Proving Ground (MD) conserved 400 acres of land in FY2021 by leveraging REPI and local partner resources. While REPI provided $895K to fund these easements, the installation partners, including Harford County, Harford Land Trust, and Maryland's Program Open Space, provided $9.8M towards these conservation efforts. The conserved land includes culturally significant landscapes, forested shorelines along the Chesapeake Bay, and forest interior dwelling species habitat. This land will also remove 206 development right options from the installation's operational noise
Engaged Communities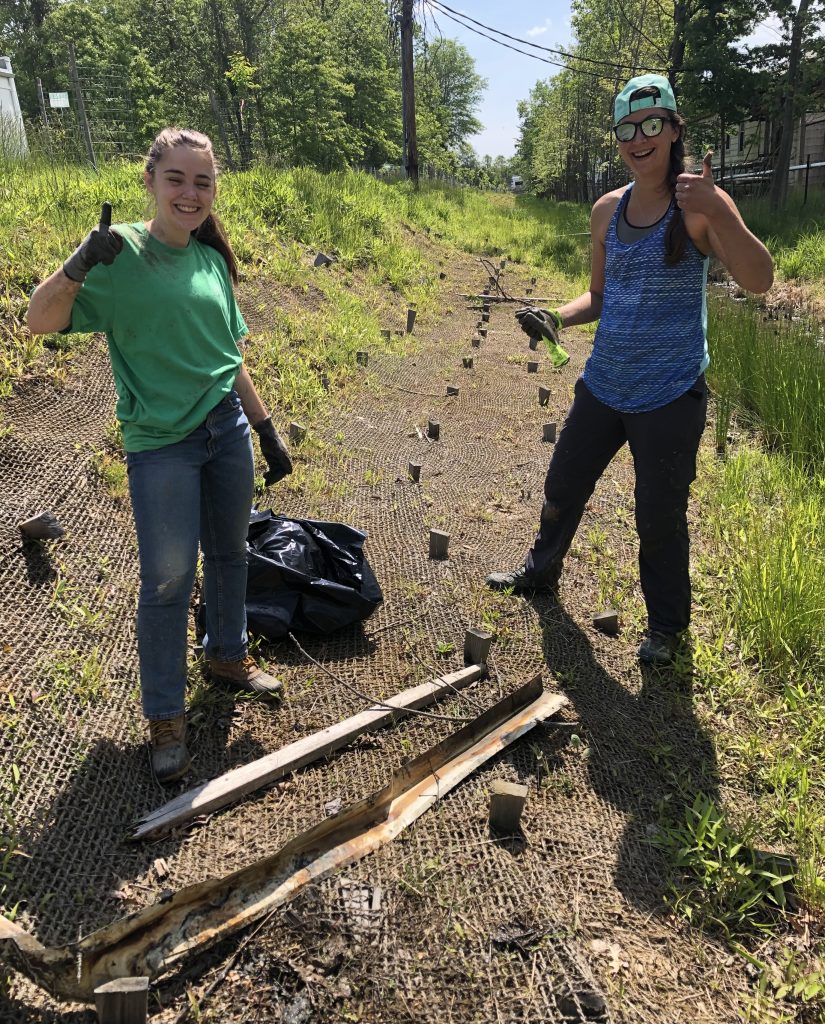 Volunteers Making an Impact
NSA Washington and Naval Surface Warfare Center (NSWC) Carderock (MD) staff walked 1.2 miles of the Rock Run Stream to collect trash and debris during their annual cleanup event. This trash blocked stream flow and created pools of water that both prevented vegetation growth and increased the possibility of flooding. During this cleanup, volunteers collected 162 lbs of waste from the stream, mitigating some future flooding impacts that could have damaged mission essential equipment.
Maintaining Treasured National Trails
Joint Expeditionary Base Little Creek – Fort Story (VA) environmental staff and volunteers assisted in maintaining and improving the Heroes Circle Nature Trail, which honors fallen service members. Overgrown vegetation was trimmed back and 96 new dogwood trees were planted throughout the trail. Trail signage was revised to provide updated information and images of local wildlife species and freshwater marsh ecosystems. Efforts such as these have kept this trail a desired place for personnel to appreciate nature and remember those who have made the ultimate sacrifice for their country.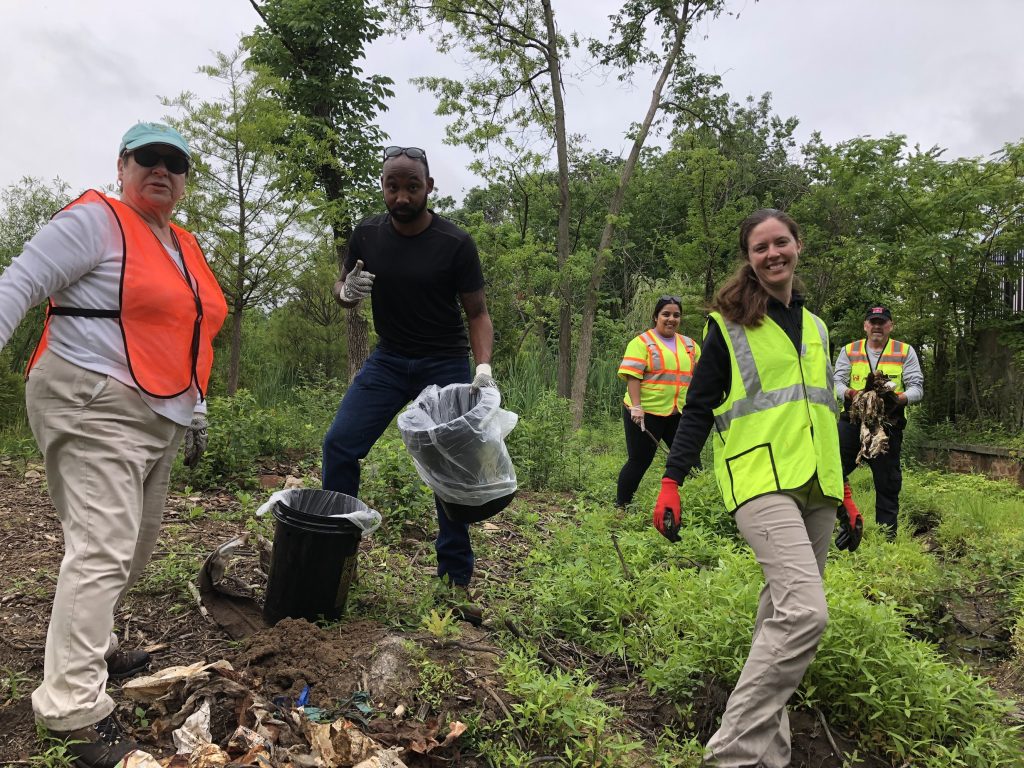 Promoting Environmental Stewardship During Clean the Base Day
Volunteers from Joint Base Myer-Henderson Hall (JBM-HH) and Arlington National Cemetery (ANC) (VA) joined together in June of 2021 to participate in Clean the Base Day efforts. Trash was removed throughout the installations' property boundaries. A total of 245 lbs of trash and approximately one cubic yard of scrap metal was collected during this event. Waste collection prevents trash from entering stormwater systems and waterbodies, protecting local water quality and wildlife and prevents flooding.
Educating Communities on Sustainable Practices
Army Reserve National Guard (VA) assisted the Virginia Tech Southern Piedmont Agricultural Research and Extension Center by educating almost 300 elementary school students on science topics during its Agricultural Days. Katy Overby, Virginia Department of Military Affairs, presented on the benefits of vermicomposting to 3rd grade students. Vermicomposting (composting with earthworms) supports the reduction of food waste and promotes sustainable habits to future generations. View the videos at: https://www.youtube.com/playlist?list=PLGaeEiRdPaCXT5d_Q_6-Cp958TWtHo8Jo
For success stories prior to 2020, please visit the DoD CBP Annual Progress Reports page.