PACIFIC MISSILE
RANGE FACILITY
BARKING SANDS,
HAWAII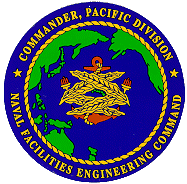 The mission of the Pacific Missile Range Facility at Barking Sands is to facilitate training, tactics development, and evaluation for air, surface, and subsurface, weapon systems for U. S. Navy Components, other DOD agencies and foreign military forces.
PACMISRANFAC is bordered by the Polihale State Park on the on the north, sugar cane fields to the east, State lands to the south, and the Pacific Ocean to the west. This area is semi-desert with annual rainfall of about 20 inches and mean annual temperature of 75 degrees Fahrenheit. At the northern end of PACMISRANFAC the sand has been blown into dunes. This area is known as Barking Sands because with just the right degree of wetness, it makes a peculiar squeaking or yapping noise when it is walked on or squeezed sharply between the hands. This location is excellent for finding Pelagic Seabirds. The majority of seabirds, shorebirds, waders and waterfowl found in the Hawaiian Islands can be expected at Barking Sands.
Public access to PACMISRANFAC can be obtained through the Security Office. Certain areas are closed during working hours due to base operations. For information please contact the Public Works Office, 808-335-4213.
BIRDS OF BARKING SANDS
DATE:________________
NOTES: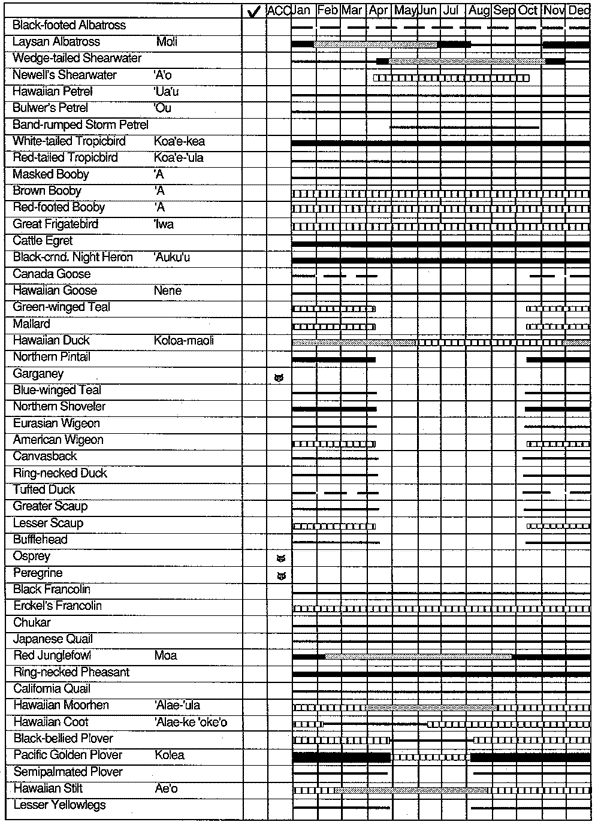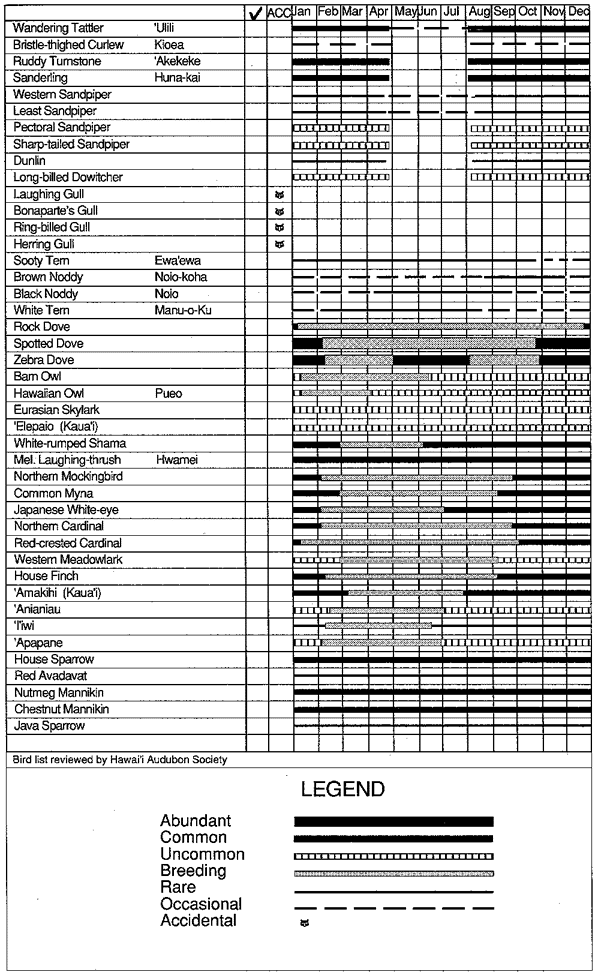 NAVY NATURAL RESOURCES AND
LAND MANAGEMENT PROGRAM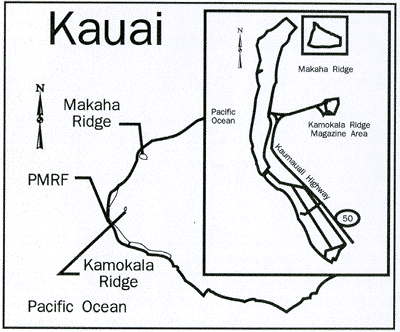 The Navy and Marine Corps manage more than four million acres worldwide. Much of this land is located in sensitive wetlands along valuable coastlines, some of the most ecologically significant areas in the world. The location of our real estate holdings makes it imperative that we plan and execute our various military missions in harmony with our environment. It is a Department of the Navy goal to promote an environmental protection ethic within the Navy workforce.
The Department of the Navy supports numerous partnerships with other Federal, State, local and private resource groups to promote such programs as the North American Waterfowl Management Plan, Neotropical Migratory Bird Conservation, Wetlands Protection and Enhancement, and Watchable Wildlife.
Jacqueline E. Schafer, Assistant Secretary of the Navy for Installations and the Environment, has noted, "It will be difficult for the Navy to succeed in its mission unless it has earned the confidence of its neighbors. To keep this confidence, the Navy must emphasize natural resources stewardship in every aspect of its land use." It does. Come see for yourself and discover our resources.
The U.S. Navy and Partners in Flight are cooperating on an international program to promote the conservation of migratory birds. For information, contact DoD Partners in Flight by email or call 540-349-9662.