This section features resources, materials, and finder tools. We will continue to add new resources and tools to this section. Watch for announcements and check "What's New" for updates.
Pamphlet: DoD Legacy Project: Migratory Linkages of Burrowing Owls
This 2 page publication summarizes the objectives, goals, benefits, and those involved in this 4 year project that studies burrowing owls, a species at risk in the southwest.
Bald Eagle Management Guidelines
This memorandum from the Office of the Assistant Deputy Under Secretary of Defense (Environment, Safety, and Occupational Health) provides guidance for all installation managers on Management Actions to Protect Bald Eagles after Delisting and provides additional information in the attached Bald Eagle Recovery Questions and Answers, publication from the U.S. Fish and Wildlife Service.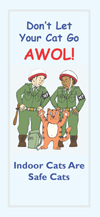 Military bases often struggle with how to manage domestic cat populations. Frequent transfers of personnel often mean cats are left behind, abandoned to fend for themselves. Lucky cats find a new human, but most are not so fortunate. Abandoned cats face many dangers: being hit by cars, starving, freezing temperatures, disease, and more. If not spayed or neutered, cat populations can explode. Learn how you can keep your cat safe and protect wildlife.
Contact DoD Natural Resources to order a hard copy.
Quantities are available for Base Housing or Veterinarian offices.
GIS layers