This section features articles, stories, and other information about birds on military installations If you have information to submit, please send it to DoD PIF and we will get it posted.
Installations are organized by DoD PIF Regions.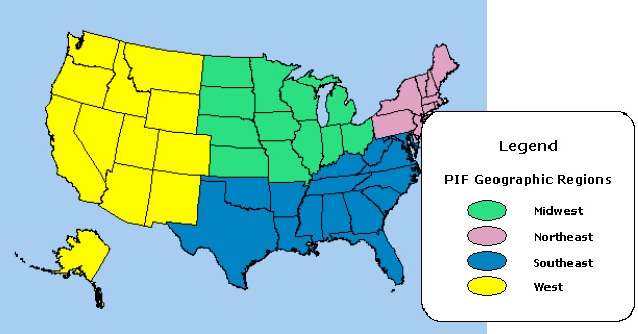 NOTE ON PUBLIC BIRDING ACCESS TO INSTALLATIONS: Availability and publication of a bird checklist does not necessarily imply authorization for public access onto a military installation. We are in the process of compiling a more thorough list of installations that allow individual or group access for birding. Please see each checklist for access details, or contact a DoD Partners in Flight Representative to inquire about a specific location not shown here.
Southeast
Alabama
Florida
Winging It, October 2003
Checklist of Birds – Naval Air Station, Jacksonville
Checklist of Birds – Naval Air Station, Pensacola
Checklist of Birds – Naval Air Station, Whiting Field
Georgia
The Oriole, 2012
Kentucky
Maryland
Checklist of Birds – Naval Air Station, Patuxent River
Checklist of Birds – Naval Surface Warfare Center, Indian Head
South Carolina
Checklist of Birds – Marine Corps Recruit Depot, Parris Island
Tennessee
Texas
Checklist of Birds – Fort Bliss
Checklist of Birds – Naval Air Station, Corpus Christi
Virginia
Checklist of Birds – Marine Corps Base, Quantico
Checklist of Birds – Naval Amphibious Base, Little Creek
Checklist of Birds – Naval Surface Warfare Center, Dahlgren Division
Northeast
Delaware
Checklist of Birds – Dover Air Force Base
Maine
Winging It, October 2004
Winging It, November 2004
Maryland
Checklist of Birds – Naval Air Warfare Center, Patuxent River
Checklist of Birds – Naval Surface Warfare Center, Indian Head
New Jersey
Lakehurst Naval Air Engineering Station
(Cleanup award, not checklist)
(Spring/Summer 2004 Birdscapes article)
New York
Winging It, July-August 2006
Pennsylvania
Midwest
Indiana
Checklist of Birds – Naval Surface Warfare Center, Crane Division
Kansas
Checklist of Birds – Fort Riley (2005 – seasonal abundance graphs)
Checklist of Birds – McConnell Air Force Base
Wisconsin
Winging It, May/June 2005
Wyoming
Checklist of Birds – Warren Air Force Base
West (includes AK and HI)
Alaska
Arizona
California
US Army Corps of Engineers, Los Angeles District, LACDA & Prado Regions
Marine Corps Base, Camp Pendleton
Marine Corps Air Station, Miramar
Naval Air Station, Miramar (old)
Checklist of Birds – Naval Outlying Landing Field, Imperial Beach
Checklist of Birds – Point Loma Naval Complex
Naval Weapons Station Seal Beach
Checklist of Birds – Travis Air Force Base
Checklist of Birds – Vandenberg Air Force Base
Winging It, May 2003
Colorado
Checklist of Birds – Fort Carson
Hawaii
Checklist of Birds – Pacific Missile Range Facility, Barking Sands
Idaho
Nevada
New Mexico
Checklist of Birds – Holloman Air Force Base
Checklist of Birds – Kirtland Air Force Base
Utah
Checklist of Birds – Dugway Proving Ground
Checklist of Birds – Hill Air Force Base
Washington
Checklist of Birds – Naval Air Station, Whidbey Island
Checklist of Birds – Naval Radio Station, Jim Creek
Checklist of Birds – Naval Undersea Warfare Center, Keyport
Checklist of Birds – Submarine Base, Bangor
OCONUS – International