20 Years of Support to the Ergonomics Community
After 20 years serving as technical advisors on ergonomics and work-related musculoskeletal disorders, the goals set forth in the DoD Ergonomics Working Group charter have been accomplished and the decision was made to discontinue the working group. Ergonomics will be represented and championed through the DoD Safety and Occupational Health Committee and DoD Industrial Hygiene Working Group.
In addition, "ErgoNEWS" has ceased publication. The November/December 2012 newsletter on neutral posture was our final issue. Despite the discontinuing of both the working group and newsletter, this website will remain available—it is a storehouse of valuable ergonomics information, including the 130 newsletters that have been published since 2002.
What Can an Ergonomics Program Do For Me
Ergonomics is essentially fitting the workplace to the worker. It involves the application of knowledge about human capacities and limitations to the design of workplaces, jobs, tasks, tools, equipment, and the environment. Implementing and maintaining an effective ergonomics program at your facility means working smarter and safer.
THE GOALS OF AN ERGONOMICS PROGRAM ARE TO…
Prevent or control injuries and illnesses by eliminating or reducing worker esposure to work-related musculoskeletal disorder (WMSD) risk factors. These factors include:
Awkward postures
Repitition
Material handling
Force
Mechanical compression
Vibration
Temperature extremes
Glare
Inadequate lighting
Duration
If you make early identification and prevention of WMSDs and their risk factors a number one priority, you will preserve and protect our military and civilian work force and dramatically decrease related costs.
Reduce the potential for fatigue, error, or unsafe acts by adapting the job and workplace to the workers' physical capabilities and limitations.
Reduce absenteeism and worker turnover.
Increase the overall work productivity and quality.
Reduce workers' compensation claims and associated costs.
Improve overall military readiness.
ERGONOMICS PROGRAMS SAVE MONEY
It's a fact- Ergonomics Programs prevent and reduce workplace injuries. But did you know that Ergonomics Programs can save hundreds of thousands of dollars in reduced lost time, workers' compensation claims and costs, and improved productivity? Need proof? Use our best practices search to read about actual money-saving success stories. Search on key words: "cost savings," "compensation savings," "reduced lost time," etc.
HOW CAN I "ZERO IN" ON INJURIES?
Best Practices programs consistently have four key elements: Leadership, Organization, Information Systems, and Communications. A special task force developed a model to apply these elements to guide and effect culture change within DoD.
Links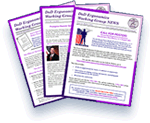 This email newsletter, with over 100 issues published since its inception in 2002, reaches out to the ergonomics community with latest developments, best practices, publication announcements, and training information. Click for more information
Ergonomics Fact Sheets

The U.S. Army Center for Health Promotion and Preventive Medicine Ergonomics Program has published 23 individual fact sheets with the latest information on ergonomics issues ranging from hand and power tool use to caring for your back while caring for children. To download and print, go to: United States Army Public Health Command Ergonomics Resource Materials.
Ergonomics Posters
Other Publications
Our publications are designed to help you with all aspects of education and training for ergonomics.
About Us
Implementation
This guide contains help for implementing an ergonomics program.
Acquisition

DoD Design Criteria Standard
MIL-STD 1472F: DoD Design Criteria Standard